Dental Implants
Throughout time many options have existed to replace missing teeth, including traditional porcelain bridges, partial or complete dentures, and dental implants. Dental implants are the easiest and most natural way to replace lost teeth. There is no reason to live with missing teeth. Not only does a full set of teeth improve self esteem but it makes the surrounding teeth stronger by decreasing unnecessary stresses on the natural teeth. Dental implants involve a titanium screw to replace the missing tooth root, with a porcelain crown cemented permanently onto the titanium screw to replace the tooth above the gum line. Dental implants look, feel and function like natural teeth and are not removable. We invite you to explore the many options of replacing your lost teeth. Success rate of dental implants are 95-97 percent, do not decay and with advancements in materials will not break, truly a permanent solution to a missing tooth.
If you are contemplating a dental implant, come see how we have integrated all the steps into one office allowing for the precision placement and restoration of dental implants. No longer are we guessing the crown will be natural looking, we are planning out the perfect crown and implant placement from the beginning of the process, improving success rates and patient satisfaction.
Our Tempe/Chandler Dental Office Technology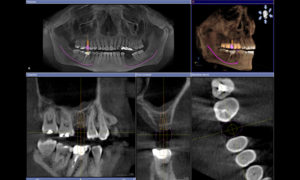 Dr. Patterson utilized the most advanced technology in the world for placing and restoring dental implants. Our patients receive a CT scan/3D radiograph, and from which we are able to diagnose the missing tooth and plan out the surgery completely from the dental implant placement to the final crown. Surgical guides are fabricated in our office utilizing our CEREC machine. The surgical guide allows us to place the implant in bone at the correct angle and position allowing for the final crown to look and function the same as a natural tooth.
All of this technology is located at our new Tempe-Chandler office and there is no need to refer the patient out of the office for CT scans or specialist consultation. Having all of this technology in one place allows the placement and final restoration of the dental implant to flow smoothly. CEREC technology allows our office to place temporary crowns that can be fabricated in office, often times the patient has the tooth removed and walks out of the office with implant placed and temporary crown the same day. What used to take months now can be done in 1-2 hours.